Magnet students have won many awards and competitions in the first few months of 2017, and have qualified for several national competitions in late April and May:
Science Bowl, Math Team, Computer Team, and Quiz Bowl:
The Science Bowl Team won first and second place at the Maryland Science Bowl (@MrPham_at_MBHS

).  

David Wu, Noah Singer, Jamie Vinson, Alex Miao, and Elliot Kienzle will compete at the National Science Bowl on April 27-May 1 (Press release from science.energy.gov: pdf).
The Ocean Science Bowl Team won first place at the Chesapeake Bay Bowl: Seniors Lara Shonkwiler, Jamie Vinson, Alex Miao, Emma Jin, and Juliana Lu-Yang will represent the region at the National Ocean Sciences Bowl on April 20-23.
Blair's team (Jamie Vinson, Eshan Tewari, Siddharth Taneja, Andrew Komo, and Annie Zhao) is in the finals of Moody's Mega Math Challenge (@wrose). They will compete for prizes ranging from $5,000 to $20,000 on April 24 in New York (bethesdamagazine.com).
The Math team finished in 4th place at the Harvard-MIT Math Tournament; Sophomore Daniel Zhu finished 6th place overall individually, and two juniors, Dilhan Salgado and Guangqi Cui, also finished in the top 50.
The Math Team finished in 4th place at the Carnegie Mellon Informatics and Mathematics Competition; Junior Guangqi Cui finished in 1st place for Computer Science and 3rd place for Combinatorics, while Sophomore Daniel Zhu finished in 2nd place for Algebra
The Quiz Bowl team (Anson Berns, Katherine Lei, Ben Miller, and Ian Rackow) won the Johns Hopkins University Blue Jay Bowl! (@jrackow1

). They will compete in the National Championship Tournament May 26-28. 

The It's Academic Team (Ian Rackow, Anson Berns, and Ben Miller) won its first playoff match 

(

@blairprincipal

) 

and will be competing in the semifinals on April 22nd - the first playoff match will air

on NBC4 

on May 6th 

at 10:30am

.

Juniors George Klees, Noah Singer, Artemis Tosini, and Andrew Komo took 2nd place at the Cyber Skyline Metropolis Cybersecurity Competition at UMD in February.
The Computer Team won the VCU High School Programming Contest! (@blairmagnet)
The Science Olympiad Team finished in 8th place at the Maryland State Finals.
Robotics Team: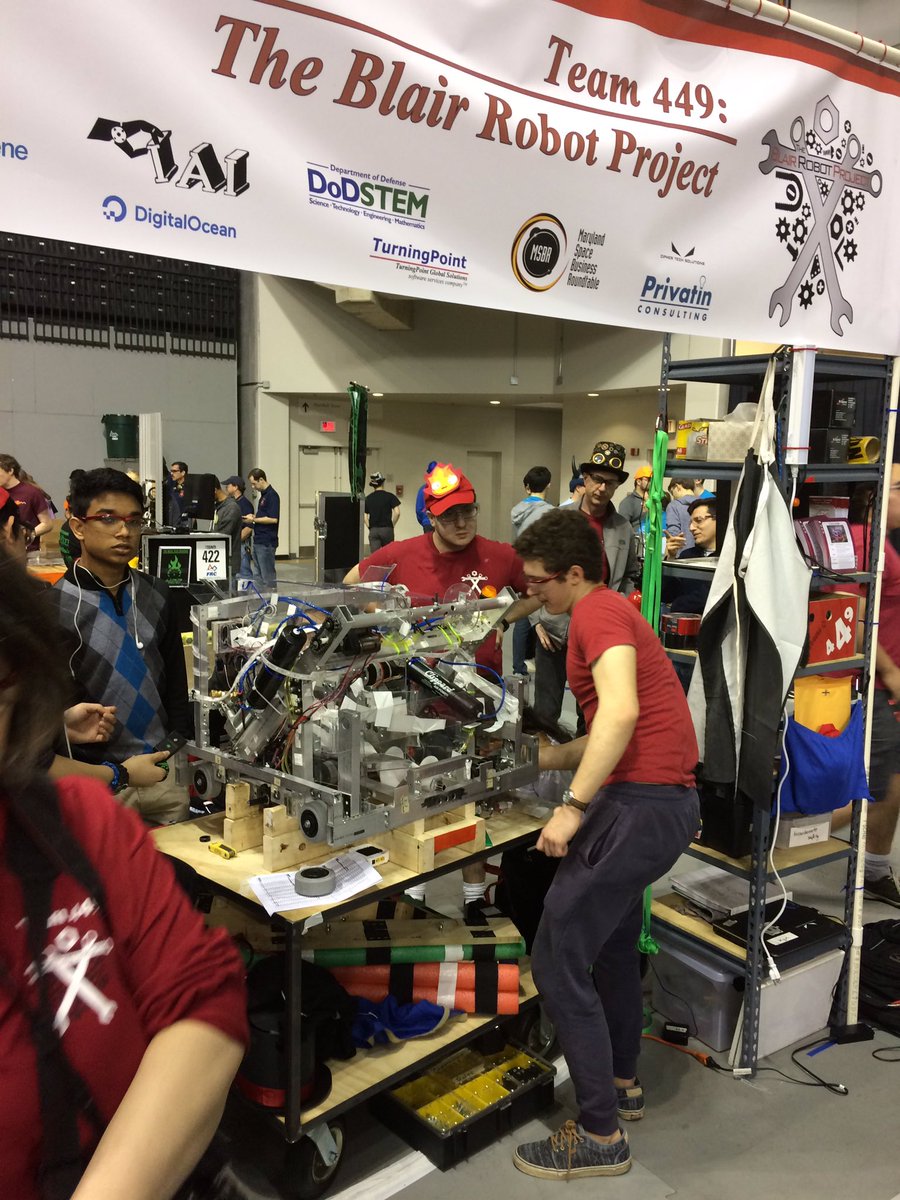 More Headlines and Recognition: